Contact Kaku Attah Damoah via Email
Related Innocenti Project(s):
Kaku Attah Damoah
Social Policy Specialist
Kaku's research examines poverty reduction strategies through household enterprise development, analysing how household enterprises react to various kinds of external shocks and policies. He brings that experience to UNICEF Innocenti to map out heterogeneity in household vulnerability, as well as to analyse the impact of cash transfer on vulnerable household resilience to shocks. Previously, he was a Research Fellow at the University of Florence and received his Ph.D in Economics from University of Trento.
Publications
Publication
Economic Crisis and Child Well-being in the West and Central Africa Region
The COVID-19 pandemic that swept over the world from early 2020 has triggered both health and economic shocks of unprecedented proportions in recent memory. Some estimates suggest that the consequences of these shocks will likely erase most of the progress made in global development over the past two decades. Many countries now risk falling further behind the attainment of national and international development goals, including the UN's Sustainable Development Goals. Children are particularly vulnerable to the effects of these shocks due to their persistent higher levels of vulnerability, and the reality that school closures and other COVID-19 containment measures can be more damaging to children. This report examines the effect of previous economic crises on children's well-being in UNICEF's West and Central Africa Region (WCAR) and makes projections regarding the potential impacts of COVID-19-induced economic crises on priority indicators for the region.
Publication
Supporting Families and Children Beyond COVID-19: Social protection in Southern and Eastern Europe and Central Asia
Acknowledging that health, economic, and social crises can rapidly become a crisis for children, this paper seeks to contribute evidence to understanding what the crisis means for children and for families with children in the countries of Southern and Eastern Europe and Central Asia. In particular, what governments and stakeholders should be looking for when seeking to protect children from the worst outcomes of the crisis. In doing so, this paper asks: Through which mechanisms can COVID-19 affect children in the region? What can we learn from previous crises about the potential effects on children and those who care for children? How is vulnerability to poverty and child well-being likely to be affected? Are initial government responses to the crisis likely to worsen or mitigate risks to children's well-being? And how might future public policies be optimized in the short and medium term to protect child outcomes?
Publication
Does COVID-19 Affect the Health of Children and Young People More Than We Thought? The case for disaggregated data to inform action
Blogs
Blog
COVID-19 may pose greater risk to children than originally thought
It is commonly accepted, at least for now, that children and adolescents (0-19 years) have been largely spared the direct epidemiological effects of the COVID-19 crisis on their own health and survival. This narrative is based predominantly on early data from the first affected countries of the virus, notably from China (Wuhan Province) and Italy in early 2020, and also other high-income countries including the United States and some European nations. This narrative has conditioned subsequent screening and testing of COVID-19 cases in children and adolescents, which have been notably lower than for other age cohorts. But demographic dynamics differs widely among countries, and assumptions and narrative made on evidence taken from ageing societies and mainly from high income countries may not hold for more youthful and growing populations (Figure 1). For this reason, we began to investigate the burden of COVID-19 cases for children and adolescents globally. And what we have found so far, despite major data limitations, suggest that children worldwide may be more affected by COVID-19 than the dominant narrative so far suggests. The narrative [that children have been spared] is based predominantly on early data from the first affected countries of the virus, notably China and Italy and other high-income countries including the United States and some European nations.Italy source: https://www.statista.com/statistics/1103023/coronavirus-cases-distribution-by-age-group-italy/ Kenya source: https://www.health.go.ke/wp-content/uploads/2020/06/Kenya-SITREP-090-15-Jun-2020.pdfThe dataset we have compiled from websites of 42 countries with available disaggregated data shows that the average of COVID-19 reported cases among children and adolescents under 20 years as a percentage of total cases is 8.1 per cent. There is an incredibly broad spread among the proportions, ranging from Paraguay, where under-20s account for about 23 per cent of the national COVID case load on 14 June 2020, to Spain, where they represented just 0.82 per cent by 4 June 2020. (Figure 2). A pattern of the child and adolescent burden of reported COVID-19 cases emerges when countries are aggregated along income levels and geographic locations. Using the World Bank income categorization, the share of COVID-19 cases among under-20s in the total reported burden is around 10 per cent for low- and middle-income countries (LMICS) including China compared to 7 per cent for high-income countries (Figure 1). When China is excluded, the share of COVID-19 cases among under-20s in the total national burden is around 11 percent. What is perhaps more disturbing, however, is that for some of the high-burden child and adolescent mortality countries – including Brazil, India and Nigeria – the proportion of cases among under 20s to the total national COVID-19 cases is in double digits. One reason that children may be neglected as sufferers from COVID-19 derives from the way the virus affects them. Children confirmed with COVID-19 generally have fewer symptoms than adults, including fever and cough, and much less dyspnoea (shortness of breath) than adults. Consistent with less severe disease, laboratory findings in children with COVID-19 are less abnormal than in adults, and they are less likely to require ICU or significant treatments. However, the emerging multi-system inflammatory syndrome (MISS or MIS-C) in children reported in Western countries is of great concern and calls for increased vigilance. Early detection is key to prevent unintended consequences for children. Much of the difficulty of drawing definitive conclusions from the available data is related to the fact that there is just too little of child specific data. From our search of diverse sources, we were only able to draw on data by age from 42 countries out of the 188 countries and territories that have confirmed cases of COVID-19, which represents about 20 per cent of these countries. It is even harder to obtain disaggregated data to evaluate proportional representation by age among children and adolescents with COVID-19. This omission requires rapid rectification if the full direct effects of the virus on children and adolescents – and indeed other stratifiers such as gender and race/ethnicity -- are to be better understood. While understanding the additional burden the accurate age reporting may place on already overstretched health systems, particularly in countries with weak health system capacity, experience from some low-and-middle-income countries proved that it is possible for much more age disaggregated data to be made available in a readily accessible format. This will not only benefit children and adolescents but the wider understanding of the impact of COVID-19 on all age cohorts. The same argument can and is being made for disaggregation by sex. A medical worker applies a flu vaccine to a girl in Asuncion, Paraguay amid the COVID-19 pandemic. Health authorities in Paraguay are encouraging people over 60 and children to be vaccinated against the flu.It is imperative to have standardized age data to enable a comprehensive and timely understanding of the patterns of vulnerability across ages, geography, co-morbidities and vulnerabilities, thus enabling better programme strategies and policy adoption that are context specific. At the end of the day, the pandemic is about people in different parts of the world, so invoking the SDG principle of leaving no one behind, and universal health coverage, we need to pay attention to everyone including children and adolescents, who are often the silent victims. Children are without a voice or platform and are among the most vulnerable. It is the responsibility of all governments and parties to make sure they are not left behind in this epidemic due to lack of data, research and testing. The pandemic has currently appeared to hit men and the elderly hardest, particularly in high income countries. But data emerging from the US and elsewhere points alarmingly to COVID-19 disease becoming an equity issue, with certain ethnicities and income groups much more likely to die from it than othersIn addition, a further call by the authors is for the continuous monitoring of age- and sex-disaggregated data for COVID-19 by governments and major international agencies. The pandemic has currently appeared to hit men and the elderly hardest, particularly in high income countries. But data emerging from the US and elsewhere points alarmingly to COVID-19 disease becoming an equity issue, with certain ethnicities and income groups much more likely to die from it than others, even when controlling for pre-existing health conditions, age, and other socio-demographic factors. Like polio before it, unless we continue to monitor its socio-demographic spread, COVID-19 may start out being a disease that first affects more affluent communities and countries but could end up lasting longest and deepest among the world's poorest countries and communities. In the HIV crisis, age-disaggregated data appeared long after the aggregate numbers or even the sex-disaggregated, leaving child prevention, detection and treatment lagging well behind that of adults. Until it did, children were assumed to be affected largely by its secondary effects on their parents, caregivers and family members. The disaggregated figures showed that children were also primary victims of the crisis, as well as secondary ones, but by the time this happened, it was too late to stop this momentum. We must not make the same mistakes with the COVID-19 crisis. See a complete list of country level COVID-19 data sources. Priscilla Idele is Deputy Director of UNICEF Innocenti. David Anthony is Chief of Strategic Planning and Convening at UNICEF Innocenti. Kaku Attah Damoah, is a Research Consultant at UNICEF Innocenti working on poverty reduction. Danzhen You is Sr. Advisor, Statistics and Monitoring at UNICEF.
Podcasts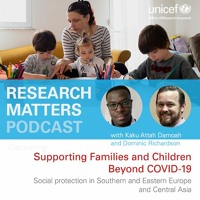 Podcast
Supporting Families and Children Beyond COVID-19: Social protection in SE Europe and Central Asia