Contact Gwyther Rees via Email
Related Innocenti Project(s):
Gwyther Rees
Social & Economic Policy Manager
Gwyther Rees, Social & Economic Policy Manager Gwyther joined UNICEF Office of Research – Innocenti in October 2017 as a consultant working on the Report Card series on child well-being in rich countries. He then was appointed to the post of Social & Economic Policy Manager in 2020, working on the Report Card series, child poverty research, and family policies. He has also been involved in a multi-country research project on children's experiences and views of the COVID-19 pandemic. Before joining Innocenti, Gwyther worked for many years at The Children's Society, an NGO in the UK, where he did research on children on the streets, child maltreatment, children in public care, youth justice, and children's views of their well-being, eventually becoming Research Director there. He later worked as a freelance researcher and was one of a group of researchers who developed Children's Worlds – a global study of children's views about their lives and well-being. He was Research Director of the third wave of the study that involved over 120,000 children aged 8 to 12 years in 35 low-, middle- and high-income countries. Gwyther has a BA in Economics from the University of Reading, UK an MA in Social Research from the University of Leeds, UK and a PhD that focused on longitudinal analysis of predictors of children's subjective well-being from Cardiff University, UK.
Journal articles
Journal Article
Contextualising the link between adolescents' use of digital technology and their mental health: a multi‐country study of time spent online and life satisfaction
Journal Article
Comparing inequality in adolescents' reading achievement across 37 countries and over time: outcomes versus opportunities
Podcasts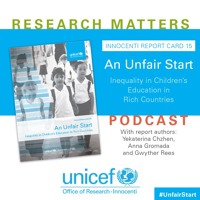 Podcast
Uncovering An #UnfairStart: An Interview with UNICEF Report Card 15 authors on Education Inequality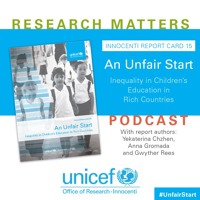 Podcast
Uncovering An #UnfairStart: An Interview with UNICEF Report Card 15 authors on Education Inequality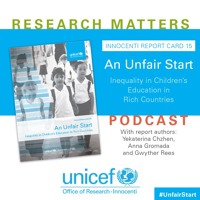 Podcast
Uncovering An #UnfairStart: An Interview with UNICEF Report Card 15 authors on Education Inequality