Contact Tia Palermo via Email
Related Innocenti Project(s):
Tia Palermo
Sr. Social Policy Specialist (Former title)
Tia Palermo is a Social Policy Specialist and oversees projects relating to social protection and equity in low- and middle-income countries focusing on cash transfers and impact evaluations of interventions to combat poverty and exclusion of children. As part of the Transfer Project, her work examines the ability of social policy to improve outcomes among children and adolescents, including those related to schooling, sexual behaviour, mental health, and violence. She joined UNICEF Office of Research – Innocenti in 2014 and has published extensively on topics related to social policy, adolescent well-being, transitions to adulthood, and violence and holds a Ph.D. in Public Policy.
Articles
Article
Enhancing adolescents' capabilities through adolescent- and gender-responsive social protection
Podcasts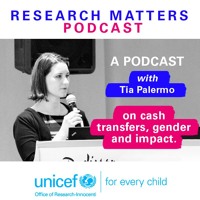 Podcast
Tia Palermo on cash transfers, gender and impact of research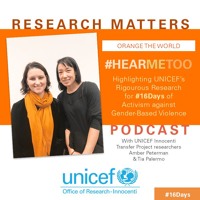 Podcast
#HEARMETOO: UNICEF Research on Gender-Based Violence for #16Days of Activism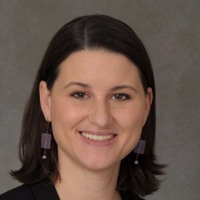 Podcast
Tia Palermo on Evaluation of Social Cash Transfers in Sub-Saharan Africa