Contact Daniel Kardefelt Winther via Email
Related Innocenti Project(s):
Daniel Kardefelt Winther
Research Manager (Children and Digital Technology)
Daniel Kardefelt-Winther leads UNICEF's research programme on Children and Digital Technologies, at the Office of Research. He works at the intersection of child rights and digital technology and has several years of experience in designing, implementing and managing cross-national comparative evidence generation projects involving children and adults. In his role at UNICEF, Daniel manages the Global Kids Online and Disrupting Harm projects, generating evidence with children in more than 30 low-middle income countries. His work involves developing new research methodologies to study how digital technology impacts children's lives, manage project implementation, conduct data analysis and support researcher training, government engagement and research uptake. He also supports UNICEF offices around the world with research expertise, training, knowledge management and capacity building initiatives, working alongside national governments and researcher partners. Daniel holds degrees in Computer Science (BSc) and Psychology (BSc) from Stockholm University, as well as in Management (MSc) and Media & Communications (PhD) from the London School of Economics. He also holds a post-doctoral research position in the Department of Clinical Neuroscience at the Karolinska Institute.
Journal articles
Journal Article
Addressing violence against children online and offline
Journal Article
Contextualising the link between adolescents' use of digital technology and their mental health: a multi‐country study of time spent online and life satisfaction
Podcasts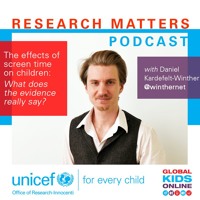 Podcast
The screen time debate: what do we really know about the effects of children's time online?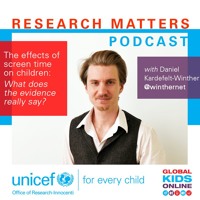 Podcast
The Screen Time Debate: What Do We Really Know About the Effects of Children's Time Online?