Contact Zlata Bruckauf via Email
Zlata Bruckauf
Former Consultant (Former title)
Zlata is a consultant researcher working on the Innocenti Report Card series. She leads the cross-national comparative work on inequality of educational outcomes, educational and socio-economic disadvantage. Her research focuses on education, child-poverty, and family dynamics as related to child rearing and time use. Prior to joining Innocenti, she carried out research for the Department of Social Policy and Intervention, University of Oxford and UNICEF Bosnia and Herzegovina on child poverty and deprivation. She also worked on USAID, WB and other donor funded social protection and research support projects in Russia and Central Asia. She has a doctorate degree in social policy from the University of Oxford (UK), and a master in international development policy from Duke University (USA).
Blogs
Blog
Child and adolescent mental health key indicators of progress toward SDG targets
Special note: Many will be unaccustomed to detailed UNICEF reporting on child and adolescent mental health issues. The latest edition of Innocenti Report Card on children in high income countries seeks to assess the status of 41 OECD and EU countries relative to the SDGs. In searching for relevant, contextually appropriate means for measuring health and well-being, adolescent mental health symptoms, suicide, alcohol abuse, bullying and sexual and physical violence were included. Any parent can recognise the signs of early distress in a small child. Young children can be very vocal in showing their emotions: crying, shouting, kicking or throwing toys around. But when they reach early adolescence psychological problems can become more acute, less easy to detect and even more difficult to fix. Parents are often no longer capable of providing help and become dependent on professional help. The newly released Innocenti Report Card 14, Building the Future: Children and the Sustainable Development Goals in Rich Countries, shows that on average, 25 per cent of 11-15 year olds in high-income countries report experiencing two or more psychological symptoms[1] on a weekly basis. Moreover, 1 in 12 adolescents report experiencing these symptoms on a daily basis. Girls are consistently more vulnerable. In 26 out of 31 countries girls at age 15 and 13 are substantially more likely to report experiencing psychological symptoms on a weekly basis compared to boys. Alarmingly, in 13 out of 31 industrialized counties the reporting of these mental health symptoms have increased between 2010 and 2014. A particularly worrying trend is observed in the Netherlands, Luxemburg, Slovenia and Sweden. Progress in many other countries has remained stagnant. in 13 out of 31 industrialized counties the reporting of these mental health symptoms have increased between 2010 and 2014Psychological problems among children and adolescents are complex and wide-ranging. They can include disruptive conduct, anxiety, eating and mood disorders, attention deficit hyperactivity disorder (ADHD) and other mental problems. Mental health issues of children and young people are slowly gaining the spotlight they deserve. Evidence unambiguously shows the links between adolescents' mental health and the experience of bullying, feeling not 'connected' to the school environment, perceived exclusion and lack of respect from others. It was also found to be associated with low academic achievement, health risk behaviours and – in the most acute cases – leading to self-harm and suicidal behaviour. If left untreated, childhood mental health disorders impose a significant cost to the society. Understanding the drivers and consequences of child and youth mental health issues is vital for developing the right steps in their prevention. It is the right time to channel more public resources to do so. Target 3.4 under Goal 3 of the Sustainable Development Agenda specifically calls to 'promote mental health and well-being.' The problem should be taken seriously to provide comprehensive and timely support to parents and children in their struggle to manage emotional and psychological issues. Way too often, help in form of professional mental health service support comes too late, when issues become acute, entrenched and less responsive to intervention. Patching up a problem is then a more likely outcome. Report Card 14 findings suggest that identification and diagnosis of children with mental health and psychological difficulties should start early, before age 11. At the national and international level, there is an urgent need for regular and comprehensive monitoring of children's mental health. This often means developing appropriate survey instruments that could provide evidence on a timely basis. School systems should give more priority to emotional and psychological well-being of children by establishing an early identification and response system that works in a non-stigmatising manner. Gender sensitive interventions, which would support children' ability to respond to pressures of their environment and promote a positive self-image are particularly important. Finally, children and young people should be given the more and better opportunities to talk about the well-being issues that concern them as well as the help they want to receive. We want our children to be resilient. But we need to give them that chance.For a deeper look and discussion on the data regarding adolescent mental health collected for Report Card 14 download Innocenti Research Brief 2017-12: Adolescents' mental health; Out of the shadows. Zlata Bruckauf is a consultant researcher with UNICEF Innocenti working on the Report Card series specializing on inequality and education issues. Explore the UNICEF Innocenti research catalogue for new publications. Follow UNICEF Innocenti on Twitter and sign up for e-newsletters on any page of the UNICEF Innocenti website. [1] Feeling low, feeling irritable, nervous, having sleeping difficulties.
Journal articles
Journal Article
Household income and sticky floors in children's cognitive development: Evidence from the United Kingdom Millennium Cohort Study
Journal Article
Multidimensional Poverty Among Adolescents in 38 Countries: Evidence from the Health Behaviour in School-aged Children (HBSC) 2013/14 Study
Podcasts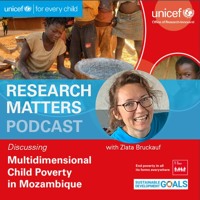 Podcast
Multidimensional Child Poverty in Mozambique: Measurement & Methods to END Poverty For Every Child