Contact Zlata Bruckauf via Email
Zlata Bruckauf
Former Consultant (Former title)
Zlata is a consultant researcher working on the Innocenti Report Card series. She leads the cross-national comparative work on inequality of educational outcomes, educational and socio-economic disadvantage. Her research focuses on education, child-poverty, and family dynamics as related to child rearing and time use. Prior to joining Innocenti, she carried out research for the Department of Social Policy and Intervention, University of Oxford and UNICEF Bosnia and Herzegovina on child poverty and deprivation. She also worked on USAID, WB and other donor funded social protection and research support projects in Russia and Central Asia. She has a doctorate degree in social policy from the University of Oxford (UK), and a master in international development policy from Duke University (USA).
Publications
Publication
Child Poverty in Mozambique – Multiple Overlapping Deprivation Analysis
In this paper, we provide estimates and analysis of child multidimensional poverty in Mozambique. Drawing on data from the Mozambique Household Budget Survey of 2014/15 (IOF), we define child multidimensional poverty using the Multiple Overlapping Analysis (MODA). We define three age groups of children, and a total of seven dimensions of deprivation: Family, Nutrition, Education, Child labour, Health, WASH, Participation, and Housing. Results show that 81 per cent of children are deprived in at least two dimensions. Children are especially vulnerable in rural areas, where deprivation rates reach 95 per cent, and in the provinces of Niassa, Zambezia, and Cabo Delgado. The dimensions that more frequently overlap in Mozambique are Housing, Health, and WASH, with one third of children being deprived in these three dimensions at the same time. The data also allow the analysis of the interplay between monetary and multidimensional child poverty: 46 per cent of children suffer both forms of poverty. Children who are poor and deprived are children who live in rural areas, in more remote provinces; they live in households whose heads are less educated and whose main activity is agriculture. Finally, there is a direct correlation with shocks affecting the household and multidimensional poverty, with children of families who experienced weather shocks being more likely to be poor, deprived, or both.
Publication
An Unfair Start: Inequality in Children's Education in Rich Countries
In the world's richest countries, some children do worse at school than others because of circumstances beyond their control, such as where they were born, the language they speak or their parents' occupations. These children enter the education system at a disadvantage and can drop further behind if educational policies and practices reinforce, rather than reduce, the gap between them and their peers. These types of inequality are unjust. Not all children have an equal opportunity to reach their full potential, to pursue their interests and to develop their talents and skills. This has social and economic costs. This report focuses on educational inequalities in 41 of the world's richest countries, all of which are members of the Organisation for Economic Co-operation and Development (OECD) and/or the European Union (EU). Using the most recent data available, it examines inequalities across childhood – from access to preschool to expectations of post-secondary education – and explores in depth the relationships between educational inequality and factors such as parents' occupations, migration background, the child's gender and school characteristics. The key feature of the report is the league table, which summarizes the extent of educational inequalities at preschool, primary school and secondary school levels. The indicator of inequality at the preschool level is the percentage of students enrolled in organized learning one year before the official age of primary school entry. The indicator for both primary school (Grade 4, around age 10) and secondary school (age 15) is the gap in reading scores between the lowest- and highest-performing students.
Publication
Un comienzo injusto: La desigualdad en la educación de los niños en los países ricos
En los países más ricos del mundo, a algunos niños les va peor en la escuela que a otros debido a circunstancias que escapan a su control, como el lugar donde nacieron, el idioma que hablan o la profesión que ejercen sus progenitores. Estos niños acceden al sistema educativo en situación de desventaja y pueden quedarse aún más rezagados si las políticas y prácticas educativas refuerzan, en lugar de reducir, la brecha entre ellos y sus compañeros. Esos tipos de desigualdad son injustos. No todos los niños tienen las mismas oportunidades de alcanzar su pleno potencial, de perseguir sus intereses y de desarrollar sus talentos y habilidades, acarreando con ello costos sociales y económicos. Este informe se centra en las desigualdades educativas en 41 de los países más ricos del mundo, todos ellos miembros de la Organización de Cooperación y Desarrollo Económicos (OCDE) o de la Unión Europea (UE). A partir de los datos más recientes disponibles, se examinan las desigualdades a lo largo de la infancia —desde el acceso a la educación preescolar hasta las expectativas educativas una vez concluida la enseñanza secundaria— y se analizan en profundidad las relaciones entre la desigualdad educativa y factores como la actividad profesional de los padres, los antecedentes migratorios, el género y las características de las escuelas. La principal particularidad de este informe es la tabla clasificatoria, donde se resume el calado de la desigualdad educativa en la enseñanza preescolar, primaria y secundaria. El indicador de la desigualdad en la educación preescolar es el porcentaje de alumnos matriculados en centros oficiales un año antes de la edad oficial de ingreso en la escuela primaria. Tanto para la escuela primaria (cuarto curso, alrededor de los 10 años) como para la escuela secundaria (15 años), el indicador muestra la diferencia entre las puntuaciones obtenidas en las pruebas de lectura por los estudiantes que obtienen los mejores y los peores resultados.
Publication
Un départ dans la vie marqué par les injustices Inégalités scolaires chez les enfants dans les pays riches
Dans les pays les plus riches, certains enfants connaissent plus de difficultés scolaires que d'autres, liées à des circonstances sur lesquelles ils n'ont aucun contrôle, telles que leur lieu de naissance, leur langue ou la profession de leurs parents. Ils sont pénalisés dès leur entrée dans le système scolaire et se retrouvent encore plus marginalisés si les politiques et les pratiques éducatives, au lieu de résorber cet écart avec leurs pairs, le creusent. Ces inégalités constituent une injustice. Tous les enfants n'ont pas les mêmes possibilités de s'épanouir, de développer leurs centres d'intérêt et de cultiver leurs talents et leurs compétences. Ces disparités ont un coût économique et social. Le présent rapport se penche sur les inégalités scolaires dans 41 pays comptant parmi les plus riches du monde, tous membres de l'Organisation de coopération et de développement économiques (OCDE) et/ou de l'Union européenne (UE). En se fondant sur les données disponibles les plus récentes, les auteurs examinent les inégalités aux différents stades de l'enfance – de l'accès à l'éducation préscolaire aux perspectives d'études supérieures – et analysent en détail les relations entre les inégalités scolaires et des facteurs tels que l'activité des parents, le parcours migratoire, le genre de l'enfant et le profil de l'établissement scolaire. Le tableau de classement constitue l'élément central de ce rapport : il résume l'étendue des inégalités dans le domaine de l'éducation aux niveaux préscolaire, élémentaire et secondaire. Au niveau préscolaire, l'inégalité est exprimée par le pourcentage d'élèves participant à des activités organisées d'apprentissage un an avant l'âge officiel de scolarisation. Aux niveaux de l'élémentaire (en quatrième année, vers 10 ans) et du secondaire (15 ans), elle se traduit par l'écart entre le score de lecture le plus élevé et le plus bas.
Blogs
Blog
Child and adolescent mental health key indicators of progress toward SDG targets
Any parent can recognise the signs of early distress in a small child. Young children can be very vocal in showing their emotions: crying, shouting, kicking or throwing toys around. But when they reach early adolescence psychological problems can become more acute, less easy to detect and even more difficult to fix. Parents are often no longer capable of providing help and become dependent on professional help.
Journal articles
Journal Article
Household income and sticky floors in children's cognitive development: Evidence from the United Kingdom Millennium Cohort Study
Journal Article
Multidimensional Poverty Among Adolescents in 38 Countries: Evidence from the Health Behaviour in School-aged Children (HBSC) 2013/14 Study
Podcasts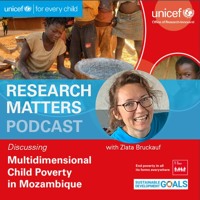 Podcast
Multidimensional Child Poverty in Mozambique: Measurement & Methods to END Poverty For Every Child