Contact Gabrielle Berman via Email
Related Innocenti Project(s):
Gabrielle Berman
Senior Advisor - Ethics in Evidence Generation (Former title)
Gabrielle Berman is responsible for providing advisory and technical support to ensure the highest ethical standards within UNICEF's research, evaluation and data collection and analysis programmes globally. Her role includes the development of relevant guidance and resources and advocating for ethical practices for evidence generation involving children in different contexts, for different cohorts and utilizing existing, new and emerging technologies. Prior to this role she has worked as a consultant to UN Agencies, Governments and NGO's providing research, policy and programming advice on a range of issues including ICT and young people in developing countries, human rights, migrant health and homelessness. Her professional experience includes working as a strategic consultant and senior policy advisor in Government and Academia. She has undertaken 3 post-doctoral fellowships in the areas of not-for-profit economics, social policy and population health.
Events
Event
Ethics in Humanitarian Research: A Practical Discussion
Join us for a lively discussion on ethical reviews for humanitarian research and monitoring.
Event
Safeguarding and Ethics in Evidence Generation
This webinar will connect issues relating to child safeguarding with those relating to ethics in evidence generation. It will underline key considerations in evidence generation and the planning and clearance process.
Event
Ethics, data & technologies in evidence generation
Reflecting on the use of social media and geospatial technologies in evidence generation, UNICEF Innocenti's expert on ethics in evidence generation, Gabrielle Berman, contributed to UNICEF's Webinar on Ethics, Data and Technologies held on September 11 2019.
Podcasts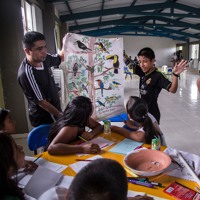 Podcast
Gabrielle Berman on ethical research on children in humanitarian situations