Contact Kathleen Sullivan via Email
Kathleen Sullivan
Chief of Communication, a.i. (Former title)
Kathleen joined the UNICEF Office of Research – Innocenti in 2017 as a communication specialist and acted as the chief of communication for UNICEF Innocenti from 2021-2022. In collaboration with researchers and colleagues, she developed, wrote, produced, and coordinated all forms of research-based media content for the Innocenti website and other distribution channels. Before joining UNICEF Innocenti, she worked for UNESCO in Bangkok on digital strategy, communication, and design for projects related to gender equality and education in the Asia-Pacific region. Prior to joining UNESCO, Kathleen worked at the IEA in Paris as an online communications specialist. Having started her career as an editor and multimedia journalist in Washington, D.C., Kathleen has more than fifteen years of experience in digital media and communication strategy. Kathleen has a Master's degree from Georgetown University in Communication, Culture, and Technology, with a focus on international relations from the Graduate Institute in Geneva, and a Bachelor's degree in journalism.
Blogs
Blog
Parental Leave Limbo: Childcare Challenges and the Potential for Policy Progress
Where childcare policies are failing parents and what countries can do to fix itAs I transition back to work after six months of maternity leave, I can't believe my timing during the launch of a major new UNICEF report Where Do Rich Countries Stand on Childcare?Published by UNICEF's Office of Research – Innocenti, where I work, the report ranks countries across the Organisation for Economic Co-operation and Development (OECD) and the European Union (EU) based on their national childcare and parental leave policies. Childcare and leave policies in these 41 countries have been compared and graded on the accessibility, affordability and quality of childcare for children between birth and school age. Using the most recent comparable data on policies for these countries, the report ranked Luxembourg, Iceland, Sweden, Norway and Germany the highest on childcare provisions among high-income countries and ranked Slovakia, the United States, Cyprus, Switzerland, and Australia the lowest.As I return to work now, I find myself in the middle of an unfortunate gap between when my maternity leave ended and when accessible, affordable childcare options become available. In Italy, where I live and work, accessible childcare options (such as daycare) become available when babies are about 12 months old, leaving me in an awkward childcare limbo – a half year gap that, without the option of family members to help me out nearby, I can only fill with a relatively expensive private nanny.Like colleagues before me, in order to fill the gap between when my maternity leave ends and affordable childcare becomes available, I'm having to cobble together a mix of annual leave, help from grandmothers who live in other countries, as well as employing private nannies at up to four times the cost of even the most expensive daycares in Italy. But I know I am not alone in this challenge. Many working parents have accepted this as their reality as even in rich countries, no other options exist for them and no policies are in place to protect them.In UNICEF Innocenti's report, while Italy ranks #1 for affordability among rich countries for childcare, it ranks #15 overall when you also consider childcare access and quality, as well as its parental leave policies. I feel the effects of how well these policies support parents and children every day as a mother."This report helps to quantify and magnify just where and how childcare and parental leave policies can have a positive impact on both child wellbeing as well as gender equality and the economy, with more women able to return to the workforce when better policies are in play.In the report, the United States, where I'm originally from, unsurprisingly and tragically ranks second-to-last overall for its childcare policies, taking into account that despite being one of the wealthiest countries, it has no paid parental leave, and affordability and access are very low. As an American living and working abroad, I feel privileged to be employed by an organization that provides paid maternity leave for six months, living in a country where affordable, quality childcare is available from the age of one year – two extremely helpful benefits protected by effective policies, that would have been unavailable to me entirely if I were living in my home country. But, as I've discovered, no system is perfect, and this report helps to quantify and magnify just where and how childcare and parental leave policies can have a positive impact on both child wellbeing as well as gender equality and the economy, with more women able to return to the workforce when better policies are in play.As my family is also Swedish, I would have had the option, if we wanted to, to start a family in Sweden, where I could have benefited from more than a year and a half of maternity leave (not counting the generous paternity leave reserved only for fathers). This parental leave policy nicely aligns with when most daycare centers are available, free of charge. It's not surprising to me that Sweden ranks third in the report given its generous package of parental leave combined with access to free formal childcare right when the basic leave entitlement ends.Despite my privileged access to these policies, I have chosen, like many others, to pursue a career elsewhere. Knowing how these three systems compare and contrast has indeed shaped decisions we've made about where and how we live and plan to raise our children. I am fortunate to have the choice to pursue a career outside of my home country and that, as a family, we can afford to find and pay for other childcare scenarios to fill these gaps, but many, many families around the world – even in rich countries – do not have the same opportunities.It is time to close these gaps and find solutions that work for every parent regardless of their job, where they live, or their gender. Now is the time to urge policymakers in every country to do better for mothers, fathers and every child to provide better parental leave policies combined with mandates for better childcare access, quality and affordability.UNICEF Innocenti's report makes nine policy recommendations to better support parents and children:Provide a suitable mix of paid maternity, paternity, and parental leave for mothers and fathers.Leave should be both gender-sensitive and gender-equitable to ensure neither parent is overburdened with home care.Leave should be inclusive and granted to those in non-standard forms of employment or training.Align the end of leave with availability of childcare to ensure there are no gaps in childcare support.Make accessible, flexible, and affordable quality childcare available to all parents.Publicly provided childcare can facilitate access for low-income families.Invest in the childcare workforce to encourage the highest possible standards.Encourage employers to support working parents through paid leave entitlements, flexible work arrangements, and childcare support systems.Provide leave policies and childcare services with family policies (e.g. child benefits) to reduce the risk of social inequalities being replicated in public childcare settings.Join me in daring to demand that parents and children deserve better. Contact your lawmakers to fight for change for every child.Read the full report.Explore the report microsite.Listen to a podcast with the report author, Anna Gromada.Kathleen Sullivan is a communication specialist at UNICEF Innocenti who is passionate about finding narratives that drive change. Follow Kathleen @ksulli on Twitter, and for more updates from UNICEF Innocenti, follow @UNICEFInnocenti.
Blog
Child's Play: A Journey into The Jungle Shines a Light on the Lives of Migrant Children
The lights dimmed and the theatre hushed. Spotlights swirled in the dark from one person popping up out of the darkness to the next as a late-night emergency meeting of refugees unfolded in front of us. I was at the Playhouse Theatre in London and then I was transported somewhere else.Set in a reimagined version of the 'Afghan Café', there we were, suddenly in the middle of The Jungle of Calais. The stage, set with a platform wrapping around tables, chairs, pillows, and posters, resembled a cozy yet provisional slum restaurant – I could almost swear I smelled spices matching the colours of the scene. Audience members sipped and nibbled as one character, and then another, jumped onto the stage in front of their tables. I sat perched above in the gallery looking down at the performance, listening as the actors – some of whom were actual migrants re-enacting versions of their experiences – shared incredible stories of hardship and hope from the border-town slum village that came to be called The Jungle. 'The Jungle', which ended its West End run in London after I saw it in November, was picked up for a sold-out U.S. run at St. Ann's Warehouse in New York and will begin performances at San Francisco's Curran from March 2019. Months after my viewing, I'm still ruminating, lingering on the powerful stories told, and also, what we can learn from them. The play is a fictional portrayal and amalgamation of the realities of the men, women, and – notably – children who came to live at the edge of Calais in the so-called makeshift migrant city, which self-assembled and then was abruptly demolished in 2016. After surviving harrowing journeys from Africa and the Middle East, these asylum seekers made a home in The Jungle, as a stopgap, in limbo – hoping to make the final leap to the U.K., but many found themselves stuck there at the border. Little 'Amal' is a young girl in the play – she is an unaccompanied minor, often wandering about, on her own, clutching a ragged stuffed animal, or holding the hand of an aid worker, 'Paula', who takes her under her wing when she can. She has no parents, no healthcare, no education. Her story – that of child migrants – stuck with me. I watched as they celebrated her birthday with what little they had. She didn't know her actual birthdate – since running from a war-torn country meant there were no official records – many celebrated their birthdays on January 1. Throughout the play, Paula is often the character taking care of Amal and also the one championing child rights – fighting to protect the children of The Jungle. She looks after Amal and cries out in anger that the International Convention of the Rights of the Child has been blatantly ignored in the context of migrant children. She is angry that the U.K. fails to live up to its commitment to reunite migrants with existing family members in the U.K, and even when it does, the children often have no support when they get there. As a new mother, I couldn't hold back tears as, halfway through the play, images of Alan Kurdi, the young Syrian boy whose corpse washed up on the shore of a Turkish beach, lit up screens installed around the theatre. In the play, that viral news came to change the course of the conversation about the camp in Calais and on migration globally – as everyone finally asked: what about the children?Mirzal, 16, arrived in Calais alone in 2015. Here he takes a nap at an Afghan barber's shop in The Jungle.The play starts and ends with the funeral of a young boy killed on a nearby roadway – a demonstration of the looming threat of life at the camp, and especially the dangers for migrant children. In the play, Paula notes that of 400+ children at the camp, about three quarters of them are unaccompanied. While the Calais Jungle became a cohesive, vibrant community, it wasn't enough to protect the people and children who lived there, and there wasn't a reliable system to help get them out. "Jumpers" – I learned – referred to migrants who would attempt to jump onto a truck going from Calais to the U.K. – It was incredibly risky and often children would lie about their age and then end up getting punished unfairly as adults for jumping – with no way to prove their age, or worse – would die in the act itself. Only a year ago a 15-year-old was crushed to death by a refrigeration truck – and this isn't the only such story. At UNICEF's Office of Research – Innocenti, where I'm proud to work, new research findings have the potential to transform the lives of children around the world. Our research on children and migration helps to fill in the gaps on why children migrate, the unknown threats and realities of children on the move, and how we can better protect child migrants.Like the play, 2017's Best of UNICEF Research-winning report – Neither Safe Nor Sound: Unaccompanied children on the Coastline of the English Channel and the North Sea, available in English and its original French – dared to ask 'What is the experience of unaccompanied children in France's migrant camps?'The sociological study, undertaken by Trajectoires on behalf of UNICEF France, sought to understand and document the risks migrant children are exposed to throughout their migration journey and during their stay in camps. The report made ten key recommendations to help protect child migrants and decrease their vulnerability: Create a place of 'protection' within sites, secure and specific to unaccompanied children.Guarantee all children equal access to information and various services through regular contact with professionals speaking the children's languages and through the use of age-appropriate information.Support and coordinate those working on the region's sites with the aim of implementing uniformity of practices and information distributed, enabling access to all children, including those within the smaller camps.Introduce regular training on child protection for the organizational workers, police forces, administrators and volunteers to help them identify situations involving human trafficking and provide guidance to unaccompanied children.Refer back to the legal framework for the protection of children, which includes the importance of reporting to Public Prosecutor's departments, and of reporting unsettling information, which will allow the departmental councils to become empowered in their mission to care for children in danger.Report all evacuations if there are no adapted arrangements for the reception and guidance of unaccompanied children, to prevent a trend of dispersal and the breaking of the bonds that children and young people may have formed with social workers or other trusted adults.Ensure that the French and United Kingdom governments dedicate sufficient resources to the family reunification process, thereby significantly reducing the duration of this process to a maximum of three months.Ensure that children have received reliable information regarding the family reunification procedure under the Dublin Regulation, including the criteria on which decisions will be based.Guarantee access to high-quality legal assistance for unaccompanied children, so that their request for family reunification in the United Kingdom can be submitted as quickly as possible.Publish practical advice on how to handle family reunification cases under Dublin III, including clarification of responsibilities and processes in the assessment of the unaccompanied children's families in the United Kingdom, ahead of transfers. Two plus years since the demolition of The Jungle, we are still learning the same lessons. While a mandate to prevent the creation of a new ongoing camp continues, hundreds, if not thousands, of migrants and children still occupy the border-town area, and raids persist against a looming Brexit to clear out new camps and prevent illegal crossings into the U.K. In many ways, nothing has changed, and what's worse is that the journey and the hardship doesn't end when they reach their destination. Once they get there, then what? The existing systems in place to support migrant children are letting children down. Mental health of these child migrants is seldom considered and last year alone, at least three teenage refugees who arrived in Britain from the migrant camp in Calais killed themselves. Research conducted by UNICEF has identified not only the experience children face while on their journey, but also the difficulties they face as refugees, lost in systems that don't adequately meet their needs.UNICEF Innocenti's recent report Protected On Paper? An Analysis of Nordic Country Responses to Asylum-Seeking Children goes further to analyze to what extent the rights of asylum-seeking children are respected and protected in Nordic countries, with specific recommendations for these country contexts as well as broader recommendations on how to strengthen and extend legal, policy and practice frameworks to ensure the full protection of child asylum seekers' rights and entitlements. Even after they have arrived at their final destination, the struggle for many – especially for vulnerable children – to successfully integrate and enjoy a childhood, continues. Listen to our podcast: The Role of Research on Migration: Insights on Migrants' Experiences with Bina D'CostaRead more: Child-related Concerns and Migration Decisions: Evidence from the Gallup World PollA Child's Crisis: Why the Refugee and Migrant Crisis Should Matter to Us All Kathleen Sullivan was a communication specialist and acting Chief of Communication at UNICEF Innocenti from 2017-2022. She is passionate about finding narratives that drive change. Follow Kathleen @ksulli on Twitter, and for more updates from UNICEF Innocenti, follow @UNICEFInnocenti.
Podcasts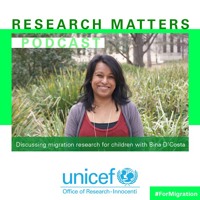 Podcast
The Role of Research on Migration: Insights on Migrants' Experiences with Bina D'Costa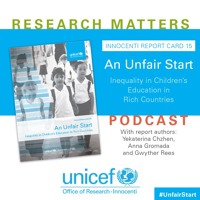 Podcast
Uncovering An #UnfairStart: An Interview with UNICEF Report Card 15 authors on Education Inequality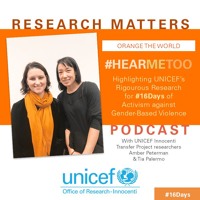 Podcast
#HEARMETOO: UNICEF Research on Gender-Based Violence for #16Days of Activism